Deluxe Muscle Recovery Pack
Regular price

Sale price

$47.00
Our Deluxe Muscle Recovery Pack provides the perfect indulgent treat for someone who deserves it. This exquisite and luxurious selection of natural products is suitable for pampering them after a hard day's work and stimulates the senses, helping to relax those overworked muscles. Show your love and appreciation with this thoughtful gift and give them a moment of effortless relaxation.
This Deluxe Muscle Recovery Pack offers the perfect solution for active individuals looking to reduce muscle tension and soreness. The heat wheat bag helps to provide relief from tension, while the magnesium muscle rub rubs away any soreness. Finally, a luxurious Epsom salt shower or soak relaxes tired muscles. An ideal gift for anyone who works hard.
Our deluxe muscle packs are crammed with #onlythegoodsstuff your body needs to support its recovery after those hard session at the gym or a full day labour.  
"I highly recommend Steph's muscle rub.I use it daily and love how it helps my sore muscles and it is amazing on my tennis elbow." - Vanessa
Benefits: 
A complete pack to aid in muscle recovery
Helps with reducing muscle soreness
Assist with brain and body function
Eases muscle inflammation
Relaxes muscle cramps
Relieves delayed onset muscle soreness (DOMS)

FREE shipping for orders over $100.
Hurry, only 2 items left in stock!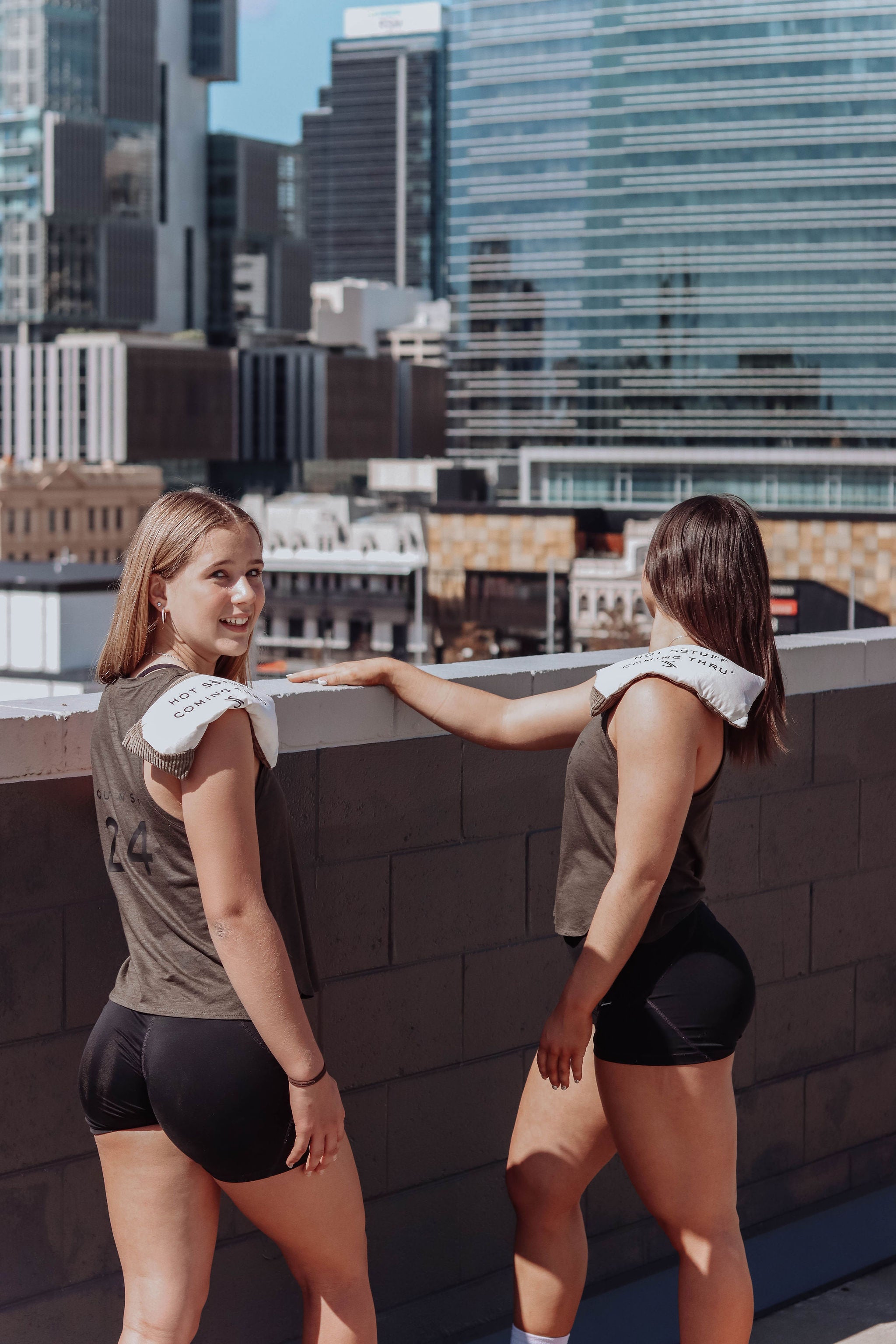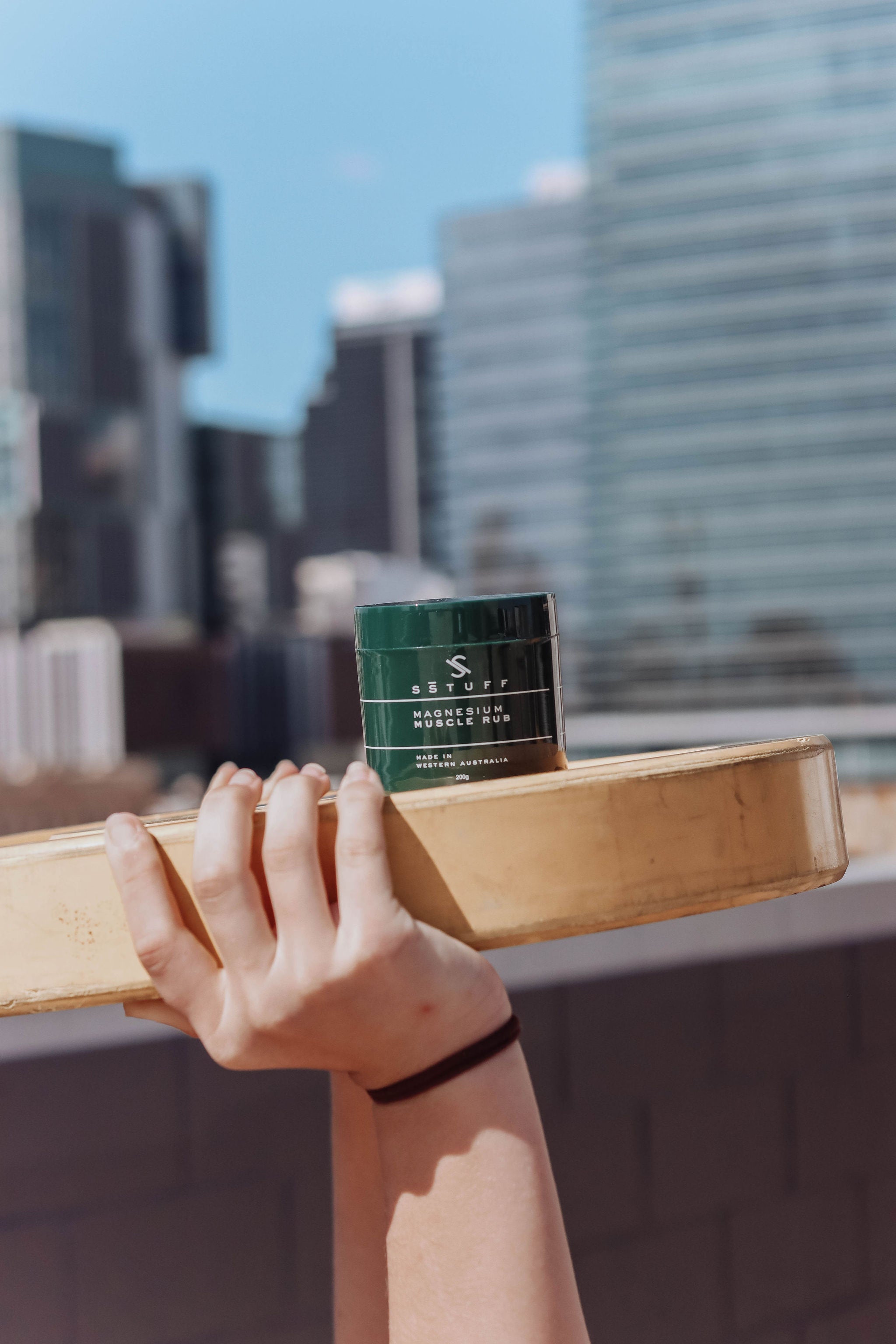 The shower steamers are amazing! The muscle rub works wonders, my husband found it and finds it so helpful when he is sore from work.
Awesome products as always ❤️
Good nutritious food, daily stretching, vitamins and health supplements are all ways to aid in muscle recovery. Besides those methods, the contents inside this deluxe pack are also a few other proven ways to complete and speed up your muscle recovery.
More Infomation
Contents of the Deluxe Muscle Recovery Pack

1 SStuff Magnesium Muscle Rub (200g)

1 SStuff Lavender Wheat Bag

2 Bath Bombs, 2 Shower Steamers

1 microfiber hand towel
Benefits of the Deluxe Muscle Recovery Pack

SStuff Magnesium Muscle Rub 

A muscle rub is a great way of getting magnesium absorbed through your skin and massaging directly onto the area of soreness and stiffness. SStuff's Magnesium Rub targets joints and muscles to soothe pain and swelling. Whether you are recovering from an intense session at the gym or just feeling stiff and tight from your daily aches, your body deserves some TLC (tender, loving, care). Read more on our Magnesium Muscle Rub.

Shower Steamers

SStuff's Shower Steamers are loaded with essential oils to provide a relaxing spa-like experience while you shower. They are made with Australian sourced high quality essential oils. Not only do they make your bathroom smell nice but provide health and beauty benefits. Check out our 5 different types of Shower Steamers. 

Bath Bombs

Think of Bath Bombs as little fizzyness of happiness, packed with #onlythegoodsstuff. They add excitement to your bath, giving a beautiful scent to create a spa-like atmosphere while you soak and relax your mind and body. SStuff's handmade Bath Bombs are filled with 100% natural ingredients. They are great for adults and children of all ages. They are carefully designed and made for all types of skin, including eczema and dry skin. All our 4 types of Bath Bombs are made here in Western Australia.

SStuff Lavender Wheat Bag

Looking for an effective natural pain treatment? A heated wheat bag fits that job. It is great to decrease joint aches, reduce muscle pain and inflammation and treat muscle spasms. Wheat bags offer moist heat that works on a deeper level. The heat warms up the muscles, dilutes blood vessels and increases blood flow, oxygen and nutrient supply to the area it is applied to, enhancing the recovery process. 

Microfiber Hand Towel

Wash and clean your hands / skin with our Quick Dry microfiber hand towel. It's lightweight, fast absorbent and perfect for drying any cleaned wounds.
Ingredients

All ingredients are sourced locally in Australia.

Muscle RUB

Cocoa Butter, Coconut Oil, Magnesium Chloride (50mg per 1g), Grapeseed Oil, Evening Primose Oil, Arnica Oil, Wintergreen Oil, Clary Sage Oil, Ginger Oil, Black Pepper Oil, Rosemary Oil, Frankincense Oil, Eucalyptus Oil, Beeswax

Wheat BAG

Wheat bag filled with 100% Australian - grown wheat.

May be used as a hot (microwave) or cold (freezer) pack

Handmade with washable cover.

Ingredients - Wheat; Cover - Premium muslin, Arctic Wide Corduroy
Directions

Muscel Rub

Use approximately 8g daily
Massage directly onto sore muscles.

Wheat Bag

Heat bag can burn skin when used incorrectly and particularly the more delicate skins of childen or older people. SUPERVISE children at ALL times.
MICROWAVE ONLY - do not use in gas or electric oven.
DO NOT USE DIRECTLY ON SKIN - use cover or towel.
DO NOT USE IF SMELLS OR LOOK BURNT - cool first before throwing away.
DO NOT INGEST
DO NOT LEAVE PACK UNATTENDED IN MICROWAVE
NOT RECOMMENDED to add oils or fragrances to the bag - risk of fire.
DO NOT OVERHEAT - Heat for a maximum of 90 seconds at each time.
DO NOT USE UNDER BEDDING, to avoid catching fire.
DO NOT put into storage until wheat bag is room temperature.

NOT RECOMMENDED for people who may have reduced awareness of temperature or feeling in their skin.
Shipping

Dispatches in 1 - 2 business days. 

Free shipping on orders above $100.
Free local pick up in Success, Western Australia is available.
Shipping within WA - $7.95 flat fee.
Shipping within Australia (except WA) - $9.95 flat fee
For all other shipping, shipping will be calculated at checkout.
Please accomodate for 3 business days for packaging of orders.
For international orders outside of Australia, kindly email us at sstuffau@gmail.com
Why Magnesium?
Magnesium is a mineral needed to stay healthy. It contributes to helping our brain and body function properly. One of its many benefits includes easing muscle inflammation and relaxing muscle cramps, making it a great natural mineral for relieving delayed onset muscle soreness (DOMS). 

Our Magnesium Rub contains magnesium chloride (50mg per 1g), arnica oil and evening primrose oil and many other natural ingredients that work wonders on sore, tired muscles. Not only does it promote recovery, it also moisturises the skin with certified organic cocoa butter and coconut oil.

Steph, founder of SStuff
How to Store

Store away from direct sunlight.

If product starts to melt, simply place it in the fridge to reharden. 

Uses

Magnesium Muscle Rub and Wheat Bag can be used for the following:

Muscle Aches and Pain

Delayed Onset Muscle Soreness (DOMS)

Post Workout Recovery

Before Bed to relieve muscle stiffness or cramping